Our Commitment To Our Guests
A commitment to cleanliness and the safety of our guests and employees has always been a tradition of hospitality. In response to COVID-19 the Roger has enhanced our sanitation practices based on the guidance of the Centers for Disease Control (CDC) and to adhere to or surpass American Hotel and Lodgings Safe Stay program. Below are the comprehensive protocols and procedures we are putting in place.
highlights

Physical distant but close at heart
We have implemented physical distancing measures in all public and back-of-house spaces. Signage and markers are in place as reminders.
Personal Protective Equipment
Team members and guests will wear masks throughout the public and back of house spaces. Guests will be provided a safety kit with a mask, hand sanitizer, and hand wipes upon check-in.

Hand Sanitizers
Touchless Hand sanitizer stations have been installed in all common areas both front and back of house, including the entrance, front desk and all elevator landings.

Enhanced cleaning of public spaces
– Particularly high touch point areas – are in place.

Touchless check-in
The Front Desk has been equipped with a plexi-glass screen and the staff wears personal protective equipment (PPE) including masks and gloves. Payment is provided via secure virtual platform. Key cards are disinfected with a UV light device.

Hospital grade cleaning chemicals
From Proctor and Gamble and electrostatic sprayer are used throughout the hotel including guest rooms and public spaces.

All hotel staff trained on COVID19
safety and facility sanitation protocols, as per CDC recommendations and guidelines.

Your room will be prepared
for your arrival and no reentry from hotel staff until your departure date, unless you request otherwise.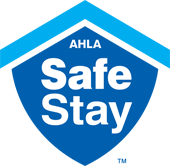 SAFE STAY GUIDELINES